Heather Everitt is an artist and embroiderer; from her studio in North Molton she creates pieces inspired by the beautiful landscape around her.
Her current 'Papillio & Lepidoptera' work is fuelled by a fascination with the ephemeral world of butterflies and moths. These embroideries are in pure silk appliqué, embellished with machine stitching, needle felting and hand beading; the connection of silk to these insects is also fortuitous.
More information on Heather's work can be found at www.heatheremb.co.uk/home.html
September - October Prints and paintings by Louise Thompson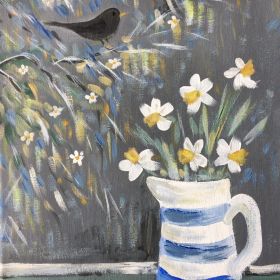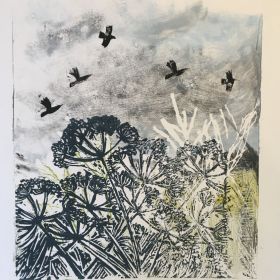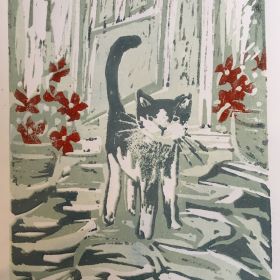 Louise graduated with a Fine Art degree from Falmouth School of Art, where she specialised in print making.
She works in various media, including acrylics, watercolour and pen and ink, and finds inspiration in the dramatic
land and seascapes of Devon, wildflowers and wildlife. Her printmaking techniques include lino cuts, collagraphs, silk screen and mono-printing.