Exhibitions

Museum's 2017 Exhibition Programme
April - Hope Bourne: a life on Exmoor.
(In conjunction with the Exmoor Society)


Hope was born in Oxford in 1918 but brought up at Hartland, North Devon, where her mother was the headmistress of a village school. Despite this, she received very little formal education, due to ill health, and after the death of her widowed mother was forced to fend for herself. She lived alone on Exmoor for around sixty years, largely self-sufficient, observing and drawing the people, landscapes and natural history surrounding her, and spent the last twenty years in a caravan near Withypool. She wrote and published four books, in addition to contributing a regular newspaper column, before dying at the age of 91.

Brian Fox - Images of Dartmoor and Exmoor.
Brian worked as a technician and latterly technical manager in the fine art department of what became Middlesex University, London, for 23 years. On taking early retirement he moved to Devon and for personal pleasure began photographing the landscapes of the two moors.

May-June - The Three Hares project.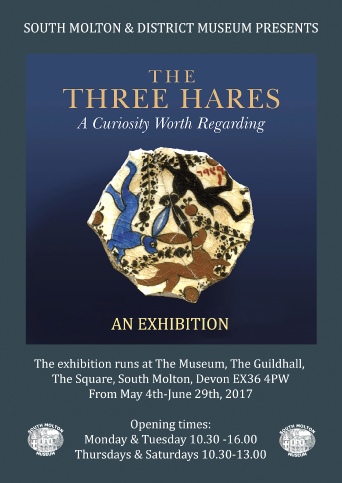 The Three Hares Project was formed in 2000 by Tom Greeves, archaeologist and historian, Chris Chapman, documentary photographer, and Sue Andrew, art history researcher. The project is a non-profit organisation whose aim is to record and research all known occurrences of the three hares motif. This
ancient symbol consists of three hares or rabbits running in a circle and joined by their ears which form a triangle at the centre of the design. The symbol is a puzzle, as each creature appears to have two ears yet, between them, they share only three ears.

The Project has revealed the motif to be an extraordinary and ancient archetype, stretching across diverse religions and cultures, many centuries and many thousands of miles. It is part of the shared medieval heritage of Europe and Asia (Buddhism, Islam, Christianity and Judaism) yet still inspires creative work among contemporary artists.

A book by Tom Greeves, archaeologist and historian, Sue Andrew, art history researcher and Chris Chapman, photographer, has been edited and published by Dr
Richard Westcott, of South Molton, who, with Chris Chapman, has put together a fascinating exhibition for the museum, which will be complemented by a talk to be given in South Molton on Friday May 5
th
. Further details can be found here

July – August - Heather Everitt : Butterflies